For years I have been travelling under my own steam arranging everything online or booking on arrival. There is one thing when booking a trip that I make sure I never leave home without and that's travel insurance. Whilst it is an extra expense to the trip, these days it is pretty minimal and with health care hugely expensive in some countries it is vital to have it.  I travel reasonably safely and don't tend to be attracted to super high risk activities like bungy jumping and canyoning (well, not yet anyway) but you never know what can happen.  My mantra has always been 'If you can't afford travel insurance, then you can't afford to travel'.
Recently, as you may be aware I visited Myanmar a beautiful country in Asia formerly known as Burma.  On a sunny Sunday morning on the last day of my holiday I was heading out on my final adventure for the trip – a shopping expedition to the local market in the city of Yangon. There were not many people on the streets – probably because it was pushing 40 degrees. As l walked down the road toward the market place I was reflecting on my brilliant holiday and thinking that I could easily stay and explore for a while longer.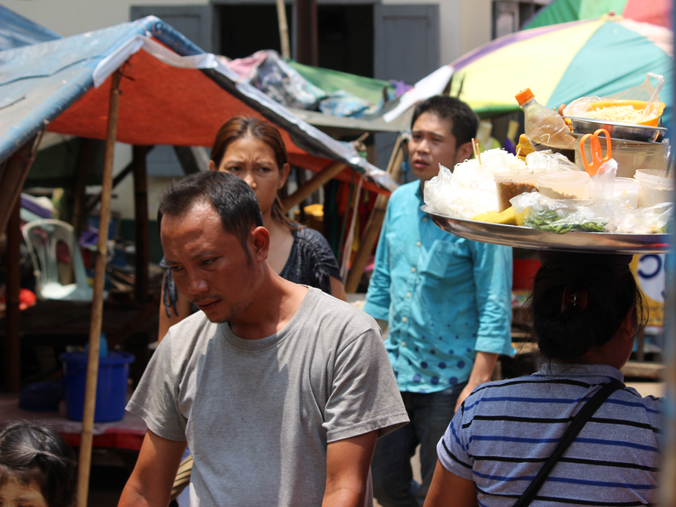 Suddenly, there was a noise that made me turn and a very angry monkey was charging at me with large teeth bared. With three lanes of busy traffic to my left and a high stucco wall to my right I had no where to go. Whilst yelling and trying to make myself large and imposing the inevitable happened. The monkey sunk its sharp teeth into my ankle and as I yelled and screamed tried to shake the monkey loose, it proceeded to attack my other foot. I managed to fend off the attacker and was left bleeding on the street.  I called for help and from out of nowhere three men popped up exclaiming 'Lady! Lady! Lady!' I said the two universal words that would hopefully get me assistance 'Hospital? Taxi?'  Quickly they hailed a cab and got me on my way to the hospital.

I had no idea of the severity of the wounds and all I could see was the blood stained ankle of my pants and a wound on my foot that was oozing dark red blood. The taxi navigated the typical grid locked, horn blasting South East Asian traffic.  At this time I had a chance to inspect the wounds on the right an extremely deep puncture wound on the top of my foot from an incisor and on the left a 10 cm long, 2 cm deep gash on my ankle. Shocked at the severity of the wounds I covered them both and applied pressure through gritted teeth.  Finally, the taxi driver got me to the hospital but to my surprise the doctor stated he could not treat my wounds and I would need to go to another hospital! After a quick clean for the trip and a tetanus jab for good measure, I was back in another taxi battling the chaotic traffic bound for another hospital.  The next 5 hours were spent in the Yangon General Hospital in the dingy emergency room. Eventually, I was patched up, injected like a pin cushion and sent on my way to head home to Australia to seek further treatment.
I returned to my hotel to sympathy and kindness from the staff. It turned out the monkey was an escapee from the local zoo located not far from the hotel – you wouldn't read about it!
During the long visit at the hospital I had managed to get in contact with my travel insurance 1Cover who I explained the situation to but unfortunately our call was disconnected. We reconnected on my return to the hotel and I was grateful to be speaking again to the same responder I had first spoken to whose name was Chris.  He was genuinely concerned for my state and in the time we had been disconnected he had sought medical advice as to what treatment should have been administered. Quickly and efficiently he managed to gather all the information necessary to get me home as quickly and safely as possible. With the severe damage to my legs I needed an upgraded seat to elevate the injuries and reduce swelling and pain.
This was all taken care of easily via a quick series of emails and within a few hours I had a new seat and a wheelchair booked at each transit airport.
I made it safely home and was whisked directly to the local hospital in Melbourne, admitted after a long explanation of the incident and underwent surgery on the wounds as soon as possible. On returning home after a few days in hospital I managed to lodge my claims with 1Cover by simply emailing a copy of receipts to their claims department. In a matter of days the approval was granted and payment was transferred directly into my bank account.  All I had to worry about was healing and how I would retell the unbelievable story.
  Things to remember:
Travel insurance is exactly that – you are covered while you are travelling, once you arrive home you are then covered by your local insurance and/or medicare.
Take a record of the incident it makes it easy to explain the situation and can be used as evidence when making a claim – photos on your phone or camera come in handy later take photos of any receipts and hospital documents as well as injury or damage
Read the fine print – know exactly what you are and are not covered for
NEVER travel without insurance!

Please note: As a long time user of 1Cover I was so impressed by the service after my incident I became an affiliate partner with them which means each person that buys insurance through a link through my blog I receive a small commission. If you are in the market for insurance please use my link.
Save
Save
Save
Save
Save
Save
Save
Save
Save